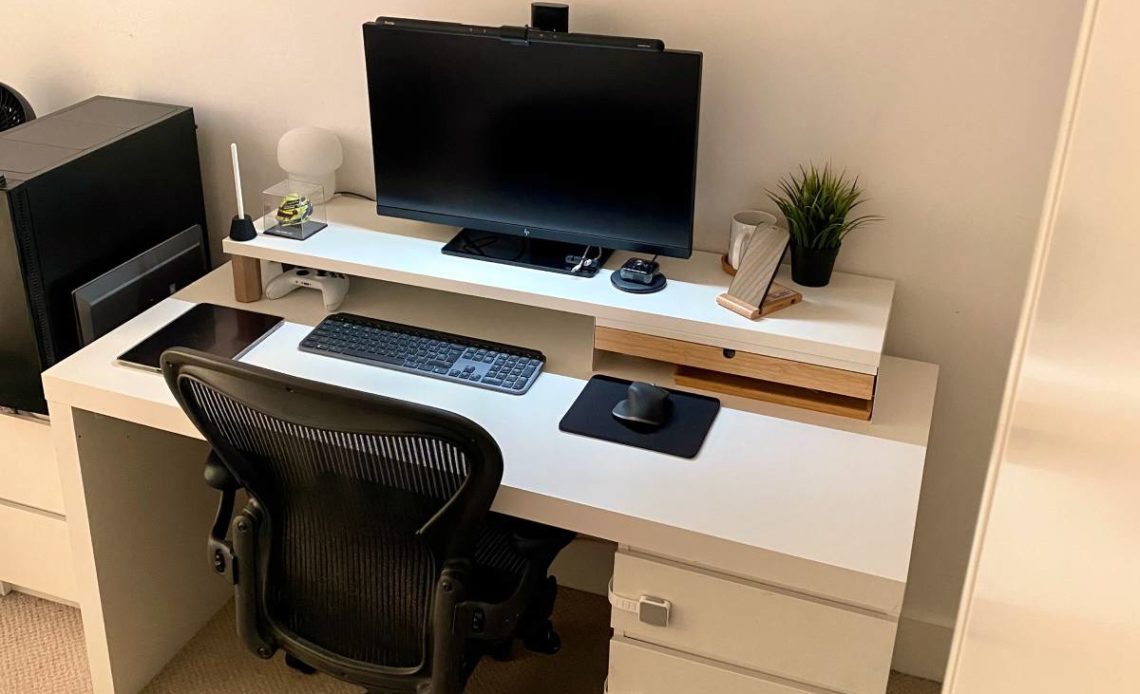 Hi All, I'm Mohamed and I am a Project Manager living in London with my wife and two kids.
I have been working from home pre COVID era and never really thought to set up a 'work station' until now.
Previous desk was a kitchen worktop from Ikea. Did the job until it started to bend in the middle. In hindsight, I should have purchased an extra leg and supported the middle of the worktop.
Table: 184x63cm Ekbacken, IKEA
Legs: Adjustable 60-90cm OLOV, IKEA
For my new set up, I started with a desk from Ikea called MALM (140x65cm). The table alone felt naked and there was a lot of unused space even with a 27in monitor. I thought a Grovesmade shelf would do the trick until I saw the price. So I went to the next best thing. IKEA.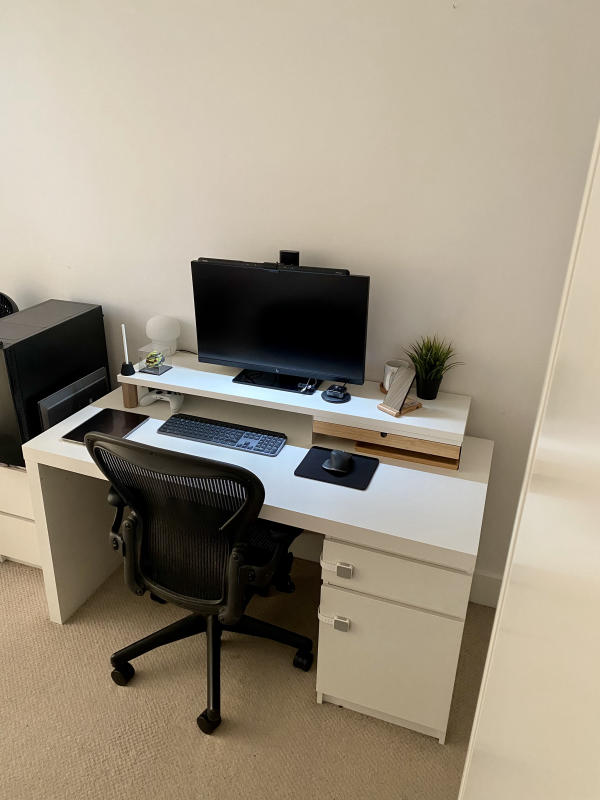 The choice for a chair was easy. Probably the most comfortable chair I have ever sat in. Herman Miller would be a choice if you spend hours at your desk.
(Editor's note: I have the same chair, and it is amazingly comfortable, no matter how long you've been sitting…)
My PC and work laptop live next to the table. Both connected to the monitor via a docking station. Laptop is easy to get to if I want to work from anywhere else.
The Logitech MX Combo I believe is the ultimate choice if you are running multi systems. The keyboard and mouse connect to 3x devices and is just perfect. I could switch between my PC, Laptop and iPad instantly.
The Drawer is the perfect place to house all your essentials. Things you don't want on the table but still use. When you have 2 kids under the age of 4, you need to hide things if you want to keep them.
I use this pretty cool Pencil holder which looks like a mini toilet plunger. I can assure you that it isn't. Battery life on the Apple Pencil 2 is fantastic. So, there's no need to always leave it charging on the iPad. Plus, the Pencil holder from uppr looks brilliant.
I am a big fan of in ear headphones and have been through so many over the last few years. The two I actively use now are the Apple Airpod pro's and the Nothing Ears. For work, I use Nothing and for anything else, I use the Airpods. Yes they are called NOTHING.
And finally, probably the most important thing in my set up. These baby proof safety lockers have been magical. They lock in place pretty easy and my 3 year old just figured it out. My one year old on the other hand, too advanced for her!
I hope you enjoyed reading about my desk space as much as I've enjoyed writing about it. I spend almost 11 hours a day sitting here and I love it.
Thank you, Miles and team, for allowing me to feature on your site.