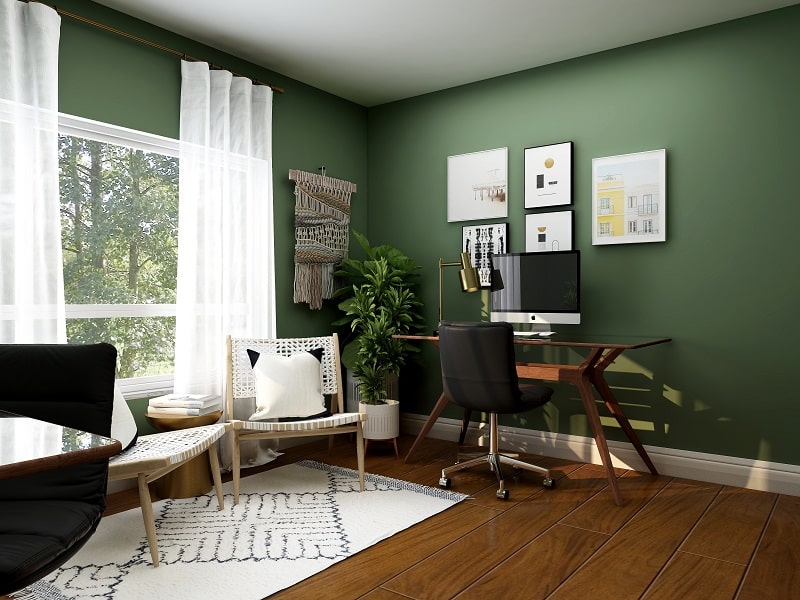 When you think of the Hamptons, you instantly picture the coastal enclaves on the southern coast of Long Island, where white-washed mansion houses border the beach and enjoy the vista.
With its ship-lap decorations, The Hampton's design harkens back to a time when ships would come into the port and exotic riches would arrive at our doorstep. It's like entering heaven where clean, ironed linen and rustic charm go nicely together.
What is decor in the Hamptons style?
White picket fences, simple lines, and casual finishes are all hallmarks of classic American design as interpreted in Hamptons style. Designing for seaside rooms and offices in the Hamptons avoids beachy clichés while sometimes including nautical elements.
Some features of the Hamptons Style Offices decor are:
The colour scheme is fresh. Brilliant whites and royal blues provide the ideal coastal vibe.

In order to provide warmth against the chilly blue and white, textures and layering are essential.

Consider sisal that has texture, rope details, and airy cotton and linens.
What hues go well with décor in the Hamptons style?
The Hamptons style offices are characterised by an abundance of blue and white as well as a rainbow of upbeat hues. When you think of the Hamptons, you think of a really preppy take on nautical design — lots of blue stripes, whites, and a blend of navy next to a duck egg.
However, what makes this approach to fashion more intriguing is how flashes of yellow and green sneak in, bursts of sunlight to raise this appearance and make it a bit more colourful.
There are peaches and pinks, mauves, and purples amid the more conventional hues, taking their cue from all the lovely puffs of hydrangeas that grow outside every home.
Examples of Hamptons Style Offices
Use white on white paint in your office
The use of a brilliant white colour scheme contributes to the overall tranquillity of a Hamptons property and is a significant style. The tranquil atmosphere of the area is reflected in the spotless white walls of the living room, bedroom, and bathroom, which also bring the outside in, brighten the area, and amplify the natural light that abounds in the Hamptons.
Remember to include Chinoiserie
Traditional China is another element of Hamptons design. Almost all Hamptons offices include blue and white ceramic and porcelain vases with chinoiserie accents that are often exhibited on every accessible surface, including coffee tables and console tables.
Popular because of the delicate workmanship involved in making them, chinoiserie gives a Hamptons-style room a hint of grandeur.
Contemporary minimalism
From Hampton executives to Instagram influencers, everyone is drawn to the Mid-Century style's elegant lines and timber framework. Although many Hampton home offices have unique historical designs, you don't have to use genuine Mid-Century designs to create the appearance.
The perfect minimalist workspace for working from home would really be created by combining parts of contemporary and Mid-Century design.
Think about including these components in your home office design:
A mid-century desk and chair

Houseplants in pots

A vintage table light
Include plentiful natural light
In the Hamptons style, you have natural light in abundance. However, that doesn't mean you should overlook your office room lighting choices.
Remember to add a flowery flair
The vibrant, striking flowers that often border a Hamptons garden are synonymous with Hamptons elegance. Consider the hydrangea, which is often moved within from the boxed hedge for a casual and unstructured floral arrangement.
These gorgeously flowing and lush plants immediately spring to mind when one imagines the summertime vistas there. In the summer, hydrangeas bloom twice and come in a variety of hues. This includes white, pink, blue, and even purple.
Pleasant accents
Modernism may be quite visually beautiful, but sometimes it can come across as too sterile or chilly for a domestic setting. Consider incorporating some cosier elements into your décor to counteract this. A boho theme is a fantastic choice.
Just make sure the objects you choose to blend in rather than stand out from your design. Throw cushions, or a Persian rug are excellent choices for adding colour and coziness to your area.
Select rustic wood products
Wood is an important component that helps the cosy wooden office reflect its surroundings. Wood is a warm, natural material that can create a comfortable, organic feel to any space. It may be applied to different surfaces and in different ways, and no matter what, it always looks wonderful.
This Hampton office space chose to use wood as a primary element for this specific project since.
Complementary in-home entertainment
The furniture alone does not constitute a first-rate workplace design. You need to have the appropriate technologies to construct a genuinely distinctive and remarkable Hampton-status workplace. This entails integrating all of your devices, including your computer, TV, and phone.
Workspace with a view
A workplace with a view won't ever go out of style, in our opinion. Thankfully, it shouldn't be too difficult to locate a lovely setting. However, you may need to be inventive if you want to imitate the Hamptons' chic elegance and style on a much smaller budget.
Here are some strategies for integrating a viewpoint from any workplace environment:
Desktop backdrops with Nature prints as wallpaper

Indoor plants
A place for customers and guests
A pleasant environment for customers is essential to developing profitable business relationships, as all successful company leaders are aware. It does not need to be a separate room.
Your customers and coworkers will appreciate it as long as you make an effort to create a comfortable environment.
Here are a few easy methods to make your workplace more friendly to guests:
Have a station for coffee and tea.

Invest in sturdy seats.
Personal effects
A little design individuality is a finishing touch—and maybe the most crucial—to a home office area with a Hamptons feel. This often takes the shape of unique memorabilia.
The nice thing about this style element is that because these objects don't have to be entirely consistent with the rest of your design, you may accent them any way you want.
Conclusion
We hope that our list of ideas for Hamptons Style Offices has helped you envision a style and design for your workspace. Hamptons Style Offices are luxuriously looking office spaces that one should have.